I've kept blogs since 2005. I used to be really good about posting to them regulary. One blog for the family, one for my daughter and then one for my son when he came along. However, all of the blogs fell by the wayside last November. I was ready to delete them when I decided to play around and update them. My husband's family all live so far away that we don't get to see them often. I started the blogs as a way to keep them updated on the day to day happenings of our little family. So instead of trashing the blogs along with past entries I decided to revive them, give them a face lift and a little pep. I spent a little time today working on new blog headers (something I had never done before, I'd just used the generic one). They turned out so cute, I just had to share them!
Here is the one I made for my son using the kit I named after him,
Declan
.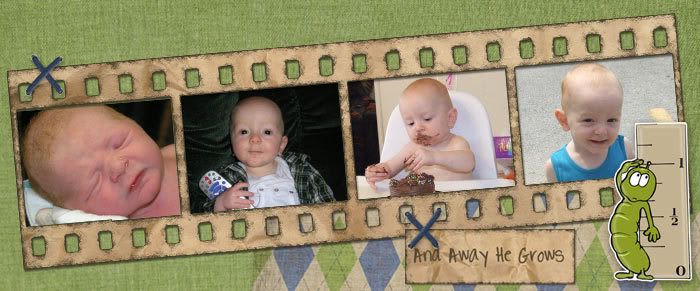 The pictures in the negative strip were taken at birth, 6 months, 12 months and 18 months exactly. He has grown so much!
My daughter's is a bit different and a little funky. She thinks she's a rock star so I had to use that somewhere on her blog header. I used the kit I named after her,
Caitrin
, for this as well as a little something I have coming out soon.
I think it shows off her attitude quite well! The extraction was fun and something different for me since I just don't do that in my layouts. Now to finish updating and send the new links to the family!