Just one day left of my free grab bag promotion! That's right, Friday is the last day. If you haven't taken advantage of this one, you might want to. Make
any
purchase (even a tiny one) and you will qualify to receive my next grab bag (I'm calling it the birthday bash box of baubles, lol!) free! I will be sending out the links on or before June 20th. You'll have it in your hands before it hits the stores! You just don't want to pass up a deal like this (at least I wouldn't, grab bag junkie that I am!).
I mentioned yesterday that I was going to put the alpha and template from the DST chat in to my stores. I decided today to give the template away on my blog instead. Who couldn't use a free template, eh? Yesterday I showed you the layout I made using the template. In case you missed it, here's the preview of the template itself.
I'll give you the link shortly... first I have to show off a layout I did. :)
I've been blessed enough to have been on Traci Reed's CT for quite some time now. I love working with her designs and she's such a fun person to be around. Sadly, I didn't reapply this time because I'm just too busy to keep up with everything so this is my last month on her CT. *waaaaah* Anyway, she just released a new kit called 'He'll Break Your Heart'. Its a tropical, surfer boy type kit. Its perfect for those pictures of your teenage boys because of the fun elements in the kit. It also works well for little boy pictures... I had to use it last night to scrap a picture of my son in the wading pool. Here you go... my little surfer boy!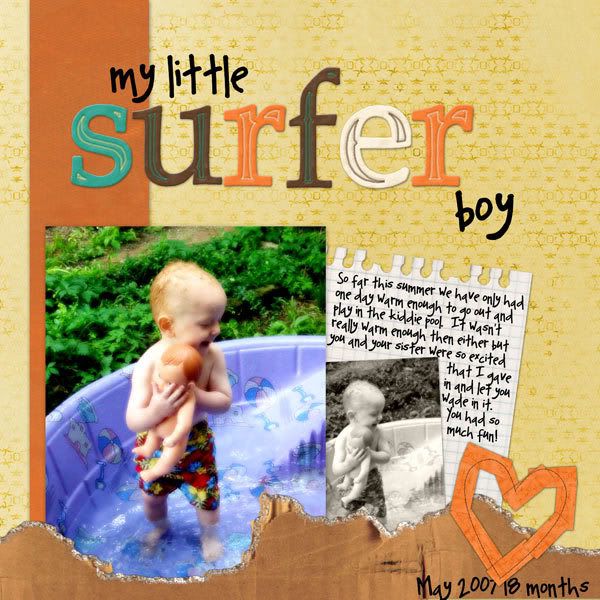 I love this picture because you can see how red my little guy's hair is. He takes after his mama, that's for sure! He still doesn't have much hair but what he does have is super straight (he doesn't get that from mama), thin, fine and red. I just love to play with it. Anyway, his sister brought the doll in to the pool with them and he had a great time making the doll slide down the little slide and catching it at the end. He's a loving little guy!
Okay... off to get something done. I've sat at the computer too long! I did promise you the link to that template though so be sure to stop by and download it
here
!