maybe... or maybe not.
The news is out, ScrapMommies has closed its virtual doors. I feel like an orphaned child now, left homeless. Just when I was getting really comfortable too, LOL.
Anyway, I find myself full of debates on whether or not I should persue designing further. Honestly, I love it. I feel strongly that my designs are getting better with each kit too. I've saw myself change and grow as a designer just in the past few months. To give it up would be be a shame. I'm not full of myself, thinking I'm a superb designer and that everyone wants to run out and buy my stuff, but I do think I have something to offer and I would like to explore that further.
So, since I am looking for a new community to become a part of and a new place to sell my designs at, I decided to use this blog as a way to 'pimp' myself (maybe I should use the word promote, eh?) . I'm going to post some of my kit previews to give everyone a peek at my work. I might even offer another freebie or two. ;)
First off, one of my favorite kits. Its called Father and Son. I had so much fun with this one. Lots of fun patterned papers with a slightly distressed style. The solids remind me of suede. :)
And the element pack that goes with it...
I love all of the brushed metals in this kit, the washers and dog tags also make it pretty masculine. :)
Next is Summer Citrus. I love the colors in this one. It was a lot of fun to do!
Sidewalk Chalk would have to be my first official kit. I had a ton of fun with this one, it became a project that my 3 year old (now 4 and growing way too fast) helped me with.
Here's a fun layout I did using this kit.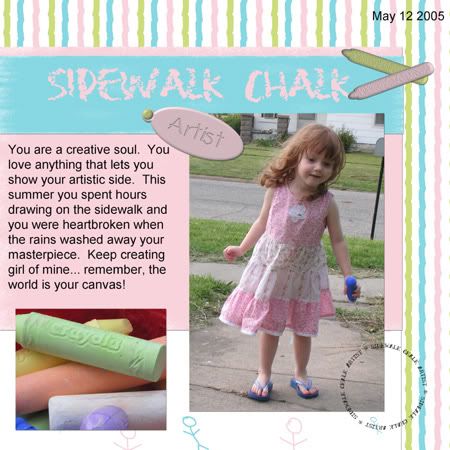 Another bright, cheery and fun one I did is Sunshine, Lollipops and Rainbows. The colors reminded me of the snowcone shack we visit. The fun patterns over took me. Since creating this kit, I found a shirt for my daughter that says "Sunshine, Lollipops and Rainbows" on it and even matches the colors of this kit. It is just begging to be scrapped, LOL!
Right in time for the 4th of July, I released 'Seeing Red (White and Blue). I just love this kit and I have scrapped with it more than I have any of my others.
Here are a few of the layouts I scrapped with this one... aren't my kids adorable??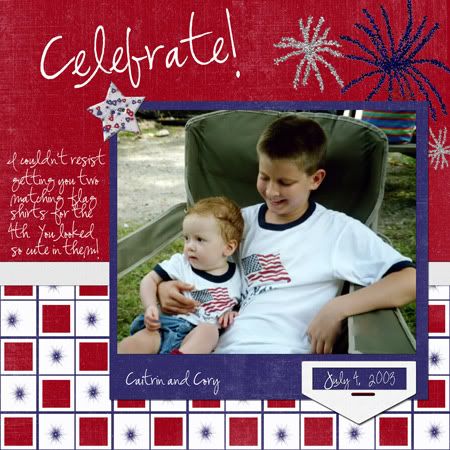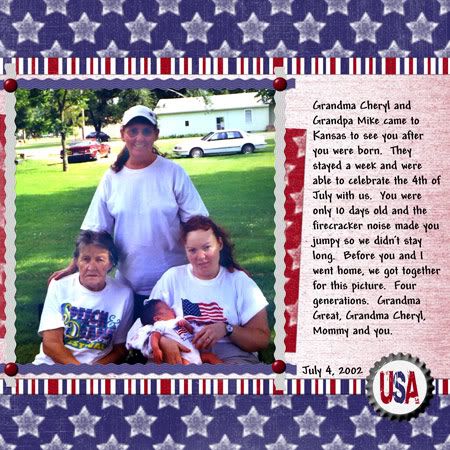 'My Girl' and 'My Guy' are two mini kits I released early in August. They were a lot of fun to work on. I had taken a short break from designing while my stepson was visiting so it was nice to get back in the saddle, so to speak. Here they are...
Fun glitter flowers, a gold charm, glitter word art, alphabet...
Super cool silver charms featuring stick figure guys doing the things guys like to do. :)
And, the last one for now... a kit I did as the prize for a challenge round over at ScrapMommies (I'm really going to miss those challenges!), I bring you 'At The Movies'
Anyway, that's not all, but I'll leave it here for now. I have more kits completed and more in the works. Even if I don't find a new 'home' right away, I'll continue to create because I love it!