I realized this morning that today marks another June anniversary for me. June has been a month that has held many events throughout my life that have molded me in to who I am today. Its a pretty significant month for me. The only two that come close are May and November. Are there any months that stand out more than others for you?
19 years ago today my grandma, two younger brothers and I boarded a plan in Phoenix and made the 2 hour trip from Phx to Tulsa. We left behind our lives in Arizona and made our way to Kansas with only what we could carry in suitcases and a few boxes shipped through UPS. It was a huge change for us as a family and a real culture shock for me. I was excited for the new adventure but couldn't help wondering if we were making the right decision to move. In the end, that decision changed the course of my life and since I love my life it was obviously the right move. Had I not moved my husband and I would not have ended up together and I wouldn't have these two awesome kids that I have. For someone who doesn't always deal well with change, I'm glad I took a chance on making a huge change 19 years ago!
Speaking of anniversaries... we're still in the middle of celebrating 5 years of Designs by Sherri Tierney!! If you have not been to the Funky Playground Forums lately, I suggest you hop on over there and
check out my challenge in Inspiration Station
. Each challenge participant will receive a $5 coupon to my store (good on PU or CU so designers, feel free to play along!). You can also visit my facebook page to pick up a special facebook exclusive party favor quickpage. It is one in a set of 4. These will only be available for free in June and will be released to my store in July so pick them up now 'cause free is a good thing. ;) If you like free, you may want to subscribe to my newsletter if you haven't already because one of the 4 pages from the quickpage set will be a newsletter exclusive. In addition to this 4 page quickpage set there will be other freebies and giveaways throughout the month so be sure to keep stopping by!
And now, the freebie I promised.... this one is a blog exclusive good through the month of June. After June it will join the others as a set in my store so be sure to grab it now and to look for the others. As I mentioned, the first page can be found on my facebook page. Click on the picture to download page #2!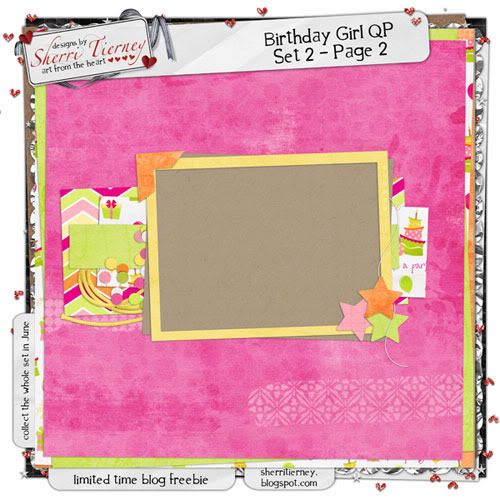 Now, I'm off to work on some other fun things for this month and get a few more products released to my FPD store. See you in digi-land!