Happy Monday, scrappers! I hope your Monday is off to a better start than mine! While my Monday may not be going so hot, I did have a very productive week last week and I wanted to share with you the new goodies I released today. Stay with me and keep reading and I'll have a little freebie (and a coupon to boot!)
First off, this week at Elemental Scraps is Release 2.0 week. We were challenged to revisit an old kit, color scheme or theme and make it new again. I had a lot of fun with this one! I chose two old favorites to freshen up. My original kits, Caitrin and Declan, were inspired by and named after my kiddos. These kits were first released 3 years ago. Like kids tend to do, Caitrin and Declan have done a lot of growing and changing in the last 3 years and I thought it was time to update their kits to reflect who they are today. It was a fun challenge! Want to take a look at the results?
I started with Declan. I ditched the old dated elements (I kept the name tag and the cute stickers though!) and then I re-did all of the papers from the ground up. You'll notice some of the papers look very similar to the original. I really liked some of the original papers but felt the scale was off and also wanted to go with a cleaner look instead of the shabbiness of the original kit. I finished off by adding an alphabet and lots of new elements perfect to scrap those little boys with! Let's take a closer look at the revisited kit...
Next I pulled out Caitrin and got to work. I loved the colors of this kit but I wasn't thrilled with the way the papers flowed so once again, I started fresh and redesigned this kit from the ground up. I tried to keep the original light and airy feel of the kit while updating it to be more substantial than the original. I enjoyed every minute of working on this kit and I really loved the delighted look on my daughter's face and the squeals and she yelled "Its perfect!" when I was finished. :)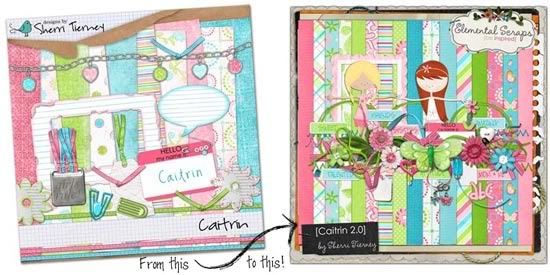 Here's a closer look at Caitrin 2.0. Its perfectly delightful, feminine and sweet. :)
This week, for my fellow designers, I have some CU layered overlays. These are so easy to use. Just recolor each layer (use clipping masks or color overlay feature or what ever your preferred method is!) and then finish off with your own textured overlays and personal touches. There are lots of ways to make these overlays your own. Turn off some layers, add more layers of your own, etc. I have two great sets newly released today.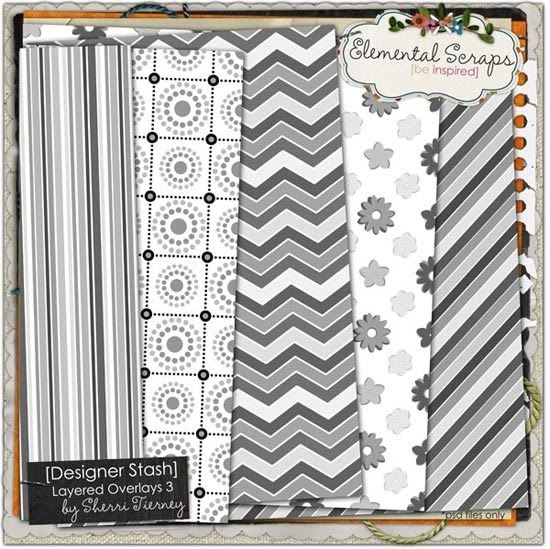 This week is FWP week at Elemental Scraps and in that spirit, I am offering the Designer Stash - Layered Overlays 3 as the FWP if you purchase Designer Stash - Layered Overlays 2! This week only you can get 10 layered overlays for the price of 5! Just add the first set to your shopping cart and the links for the second set will be included!
And, finally, I have some page templates for you! Its been a long time since I've released any templates so this is kind of fun for me! This set, Scrap Maps - Challenge Edition were primarily used for recent forum and blog challenges. If you missed the original challenges (mostly at Inspiration-Lane) then you can still pick up this set of templates. And, these are CU okay as well! :)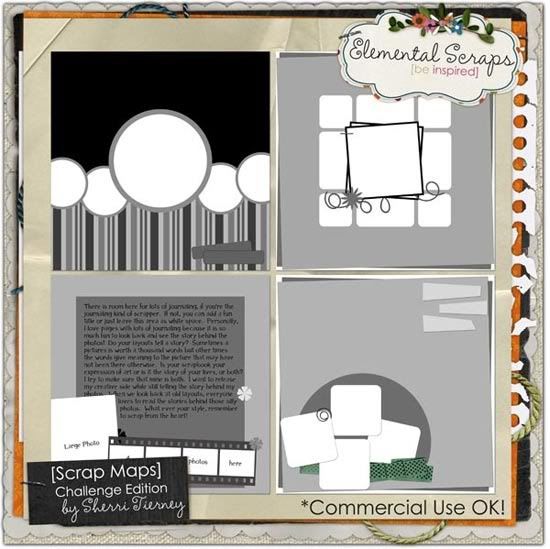 Now... if you're still reading then kudos to you for getting through my rambling! Today I have a coupon for you AND a QP freebie. :)
The coupon is good for $5 off your next purchase of $10 or more (valid through July 31st so don't delay!). Just add $10 or more in products at regular price to your cart and use coupon code
st_5off
to take $5 off your total. :)
And.. here is the freebie! I created this quickpage using my new Scrap Maps templates and Caitrin 2.0 kit. I scrapped my daughter and one of her friends using this page and I love the results.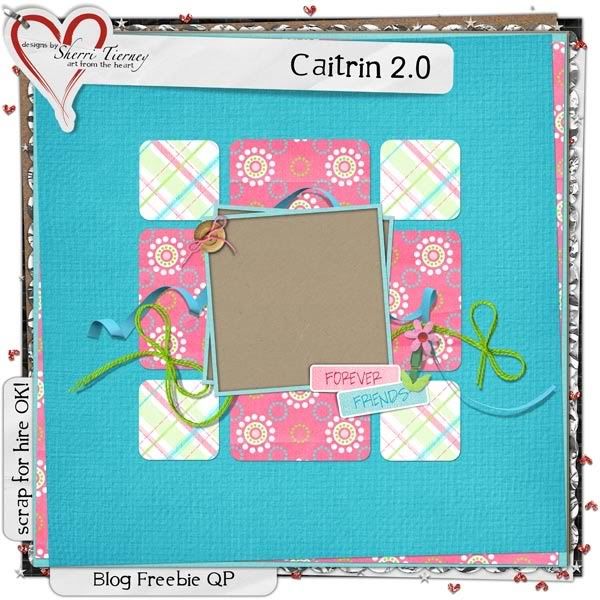 You can ::
Download Here
::