Its been way too long since I blogged. I have spent the last month fighting major computer woes. I had to reformat my entire system not once but twice in 30 days. That's just crazy! Worst thing was, I couldn't get Photoshop to work for almost an entire month. No designing, no scrapping... it was like a nightmare! Tell me you feel me, scrappers!
Anyway, I'm back (and trying to restore 115 GB of photos but more on that later) and do I have some stuff to talk about!
First off, iNSD weekend was last weekend and boy was it fun. I hope you all took advantage of the sales and freebies and even got to scrap a little when you weren't shopping!
Are you all still on a high after the weekend? I know I am... which is why the news I have now is PERFECT! Elemental Scraps is having an AWESOME contest with some AMAZING prizes. Its too bad I'm not eligible to win because I just had my external hard drive kick out on me and a Western Digital 500GB EHD is one of the prizes! Yes, I'm serious!! Crazy, huh? Crazy in a good way, of course!
The contest is being hosted entirely on the blog (though there is a place in the forums for questions and chatter about the contest). The first challenge was unveiled today and its a fun one. Be sure to check the
Elemental Scraps Blog
often (or add it to your reader) because challenges will be added regularly throughout the month and you never know when a new one will pop up!
Now... since Color Play is the theme of the first challenge of the contest, I thought I'd show you what new Color Play goodies I have for this month. For those who don't know how Color Play works, let me explain. Each month we have one color swatch to work with. Designers create paper packs, element packs, alphas, templates and more using the color swatch provided. The items go in the store (Color Play products are exclusive to Elemental Scraps) for just $2 each. The first week they are only $1 so its a good time to grab them... and today is the first day of our May Color Play promotion so you can get in on that $1 price all week!
Here's what I have this month... SeaScape. The colors this month screamed summer and water and splashy fun. This kit is perfect for pool pictures or beach pictures or even pictures of your aquarium or whatever you can dream up!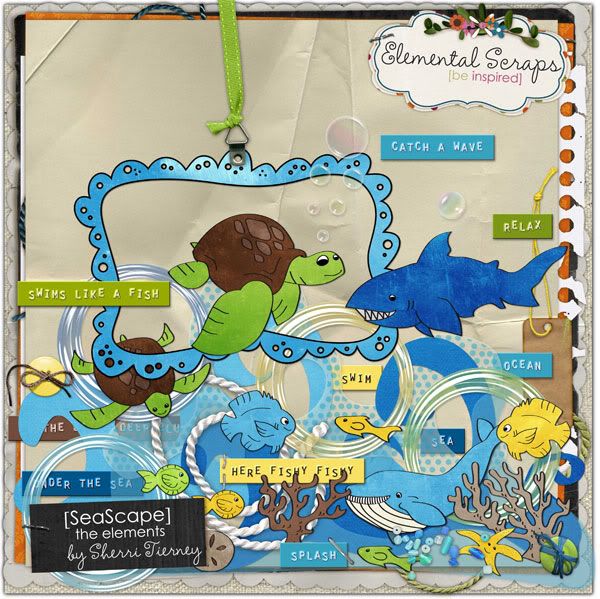 You can grab any (or all) of these or even Color Play products from other designers at
Elemental Scraps
. And, while you are there, check out my FWP promotion! There are just a few more days left. If you spend just $5 in my ES store you can get one of my newest kits, Ladies Night, FREE.
And, finally... I have a fun freebie created with my new Color Play products.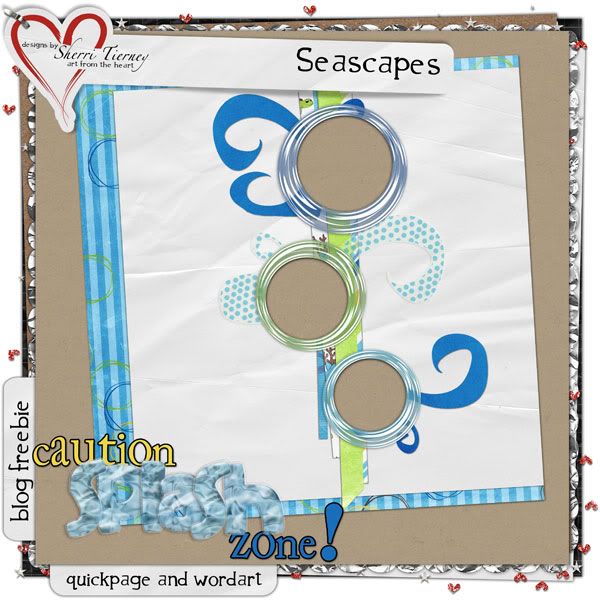 I had a lot of fun with this page (especially since I haven't scrapped in a MONTH!) I know it will be perfect for some pictures of my kiddos at the water park (once I get them restored from Mozy... highly recommend online back up services like Mozy too!) You can download it
::HERE::